Rude Awakening
March 28, 2011 § 1 Comment
The month of August is a horrible month for cinema. The summer lineup of blockbusters is winding down, and only the most hopeless of the hopeless are banished by the studios to August, and the Fall/Winter lineup of dramatic and indie
fare has not yet begun to make its way in. It is during this cinematic deadzone, in the year 2005, that talented director/writer/producer Judd Apatow released his first major, cinematic attempt at directing, a little film called The 40-Year-Old Virgin. Within a month, everyone, critic and layman alike, was talking about and quoting the film and it launched stars Steve Carell, Seth Rogen, and Paul Rudd into the comedic stratosphere. Lewd, crude, and suprinsingly heartfelt, Virgin made Apatow a household name and made him into a powerful force in Hollywood. He has been involved in more than a dozen films since his surprise blockbuster, as a writer and as a producer, but he's only directed two major films since his first. It is these three films, The 40-Year-Old Virgin, Knocked Up, and Funny People that I would like to look at in this piece, and Apatow's underlying, subtle conservatism that he brings to these three films in particular.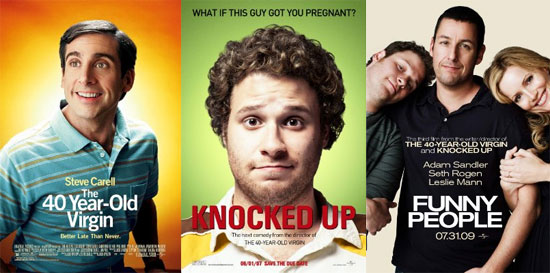 The 40-Year-Old Virgin tells the story of Andy (Steve Carell) a man who has reached his fortieth birthday without ever experiencing sexual intercourse. Comedy gold is then made over the course of the film as Andy's pals, themselves no strangers to the deed, attempt to utilize their prowess to help Andy "score." These friends, played by Paul Rudd, Seth Rogen, and Romany Malco, are hilariously crude and fairly accurate representations of what the modern man has been
reduced to. They simply seek out sex for recreation and fun, with no real focus on their partners feelings or needs. Each of these friends has a sexual "problem" that makes them less than an ideal Virgil for Andy. Jay cannot be faithful to his girlfriend and is constantly straying; David is hung up on his ex-girlfriend who left him obsessing over her, and Cal who seems to have no other goal in life than to sleep with women. These are the representations of so-called "normality," who initially believe that Andy must be a homosexual for not having slept with a woman before now. What this would seem to tell viewers is that a man is a sex-crazed animal, who can't be faithful and is emotionally stunted. These are the men who task themselves with helping innocent, naïve Andy with making the biggest decision of his life. Darcy, they are not.
Andy: Yeah, well, virgin's not a dirty word.
From bars to bookstores, Andy is dragged by his friends around to hunt down women and their exploits demonstrate the growing problem between how men and women relate. Men are shown as sex-starved, unfaithful, emotionally unstable children and women are insecure, controlling, or sexual deviants. Likewise, characters of both genders
cannot seem to comprehend the gravity of choosing to have sex. It is only Andy, who tells his friends "I'm not like you! You know what? I respect women! I love women! I respect them so much that I completely stay away from them!", who seems to get it. When Andy meets lovely, single mom, Tirsh (Catherine Keener), she is shocked but impressed by Andy's lack of attempt to sleep with her. Trish also faces the problem of a teenage daughter, Marla, who is struggling with the sexual bombardment she undergoes every day. Both Andy and Marla are facing the same struggle: how does one know when they are ready to experience sex? Both them are struggling to make the right choice in a society of peers who scorn them for using caution regarding such a major decision. However, what the film comes to show is that it is Andy and Marla who are to be praised for the restraint they
show. After he is stopped from making a bad impulsive decision with a woman, Andy's friend tell him that he was right for waiting and that they now realize how sex has complicated their lives and is not something to take lightly. By the end of the film, Andy himself has realized something; as he tells Trish "For so long I thought that there was something wrong because it had never happened for me, but I realize now it was just because I was waiting for you." Then, after a beautiful wedding, Andy and Trish finally consummate their union.
What Apatow does with Virgin, and what he comes to do in his later films, is subtly insert a morality into the raunchy comedy. He captures the sophomoric humor of films like American Pie and Porkys, but he elevates it above simple profane by making a real statement of morality. In 40-Year-Old Virgin that statement being that sex is not simply some recreational pastime, it is a serious act that has real repercussions for both engaging in it, and thus should be treated with the gravity and respect that it demands.
Alison: I'm Pregnant

Ben: Pregnant…with emotion?
Alison: Pregnant with a baby.
Apatow brought this same mixture to his next film, Knocked Up. As the title crudely alludes to, the movie is about an attractive television anchor (Katherine Heigel) who, while celebrating a promotion at work, sleeps with a lazy man-child (played with great humor and wonderful sensitivity by Virgin supporting member, Seth Rogen). The movie then highlights both what it means to be pregnant in a world that seems to undervalue the family and how one copes with pregnancy in the modern world.
The movie follows a relatively simple premise: two people sleep together, and end up pregnant and tied together by the situation and most come to know each other after such a momentous event has occurred. Choosing to have a child is a life-changing event even under the best of circumstances but when neither party is prepared nor really equipped to handle the responsibility, it becomes even more of a source of worry. In the case of Alison and Ben in the movie, Alison has just received a promotion at work and Ben spends his days living the life of a college frat boy, despite being many years out of school. In these characters, Apatow highlights two prevailing modern visions of the sexes: the
career woman and the man-child. For the career woman, as Alison highlights in the movie, the choice to have a child is so negatively viewed by those around her, that in one scene her bosses are truly shocked that people are now identifying with her on air. They are completely at a loss as to why women would feel an emotional attachment to pregnancy. As Alison's female boss sneeringly comments after discovering Alison is pregnant, "I was grossed out."  Ben faces the opposite problem, as his life has no responsibilities and he wants to keep it that way, initially. Upon telling his roommates of the pregnancy, one of them tells him to simply get an abortion; demonstrating just how simple and common place such an idea has become. Luckily, Ben is not so easily persuaded and after discussing things with Alison and seeing the sonogram of their child, the two decide to try to make things work for the sake of their child.
Pete: Marriage is like a tense, unfunny version of Everybody Loves Raymond, only it doesn't last 22 minutes. It lasts forever.
Apatow however doesn't end his film there. Rather, he demonstrates that there is yet another step to be faced: how one is to raise a family in a world of problems. Alison's sister and her husband are set up as a kind of model for what the modern, two-parent family has been become. The couple (Paul Rudd and Leslie Mann) are doing their best to raise two beautiful little girls, while at the same time dealing with the difficulties of being married. As Pete, the male in the
relationship, pithily remarks "everybody is really pissed off and tense," in marriage. While perhaps a bit bleak in its sentiments, Pete's comment does capture that marriage and raising a family is not all fun and games; it's a struggle. Ben and Alison, by choosing to bring a baby into the world, now must face all of the responsibilities that come along with raising their child. It means sacrificing your own happiness for the good of the family as a whole. What Alison's sister and her husband fail to grasp initially, is that in marriage no one can continue to be their former selves. We have to be better than we were before and show traits that we maybe didn't possess (or didn't know we possessed) before for the sake of the family.
Looking at the three films of Judd Apatow, we can begin to see a sort of progression, thematically, in his works. In The 40-Year-Old Virgin, the focus of the story is on how we come to forge lasting relationships with members of the opposite sex. Knocked Up then progresses forward to looking at, once these relationships are forged, how we set about raising a family. In Apatow's latest directorial effort, 2009's Funny People, he examines what the recognition of mortality does to a person and how that changes our perceptions and relationships when we realize that nothing is permanent.
Funny People is the story of comedian George Simmons (Adam Sandler). George is a man who had it all, a popular comedy career and a loving fiancé, but through a series of bad choices is now living alone in his mansion, washed up and making horrible, unfunny movies simply for the paycheck. He gets his wake-up call when a trip to the doctor reveals that he has an incurable blood disorder that leaves him with less than a year to live. George then is faced with the task of getting all of his affairs in order and trying to make a lasting relationship before it is too late. Enter Ira
Wright (Seth Rogen) a struggling, young stand-up comic who is the least successful of his three comedic roommates and works a day job at a deli as he struggles for his big breakthrough. A chance encounter leads George and Ira to strike up a friendship, as George hires Ira to write him jokes and the two end up becoming true friends. Complications then arise as George tries to make amends with his former fiancée (Leslie Mann), who has since married an Australian rugby player and has two little girls and a happy life in the suburbs. Ira is then pulled along after George learns that he in fact is not going to die, thanks to an experimental drug treatment, and decides to win back his former love.
George: George Simmons soon will be gone, and he's not going to miss any of you people at all. We've always had a strained relationship. You always wanted too much from me, and I'm very mad at you.
The easiest way to look at Funny People is seeing the film as divided into two halves. The first half deals with George's illness and how one deals with being faced with their own mortality. George was a man who had everything and threw it all away by his selfish choices and actions, and now must contend with death alone because he has never forged a meaningful relationship since destroying the one he had with his girlfriend. He sits in his gigantic house in Hollywood, surrounded by the memorabilia of his lavish lifestyle and horrible films, and realizes that his life has ultimately been meaningless because there is no one with him as he faces death.
George: You're my best friend, and I don't even like you.
For George, this is the greatest problem he faces. He searches for a feeling permanence and security that never comes.
He threw away his earlier success as a comedian for the perceived security he received from doing trite, horrid comedies simply for a paycheck. He threw away his relationship with Laura because he didn't think he could handle the responsibilities and settled for the security of sleeping with women who cared nothing for him as a person and were solely motivated by appreciation for his fame.  When he gets the horrible news that he doesn't have much longer to live, it's a wake-up call to how meaningless his life really is. Ira presents something new for George: a person who looks up to him and truly values him as a person. Though their friendship starts off as a simple business arrangement, it quickly grows into more as George opens up about his struggle with fame and illness to Ira. Like their namesakes the Gershwins, Ira and George become like brothers. George is able to provide the mentorship the Ira so desperately needs and Ira is able to love George as a person and not just as an abstraction or idea. The two become friends because they're able to appreciate the other as a person. There is a touching montage in the movie of Ira caring for George as he battles the blood disorder, taking him to doctors offices, rubbing his back as he is sick, and helping him get in contact with the people that he has pushed away in one way or another.
Through Ira, George begins to reawaken his own humanity, so long closed off by the pressures of fame. He begins to understand just how tough it is to be alone, without love. He struggle for so long to be what the world wanted him to be that he didn't ever truly figure who HE wanted himself to be. Because of this, he lost the things he really cared about and that mattered. When he is able to finally sit down with Laura and talk things over with her, he comes to realize just how badly he hurt her and how horrible the pain of losing her was. However, this is where the second half of Funny People takes up, as George receives news that his disease is in remission and he is out of danger. Armed with a new lease on life, George decides that the time has come to take back the love of his life, regardless of the fact that she is now married and has a family.
George: Am I not allowed to be happy or something? I've been living alone and alone and alone. That's my life. This is the only girl I've ever loved and I'm not supposed to do anything about this? When am I supposed to be happy? Why does everyone else get to be happy?
Ira: Look, George, I'm just gonna tell you this, as a friend. From where I'm sitting it seems like your happiness might be coming at the cost of destroying this family.
George and Ira go to spend the weekend with her family and while there, George is determined to win her back from her husband, a loveable but flawed man (Eric Bana). He becomes determined to fix the mistakes of the past, but is blind to the fact that the past can never be recaptured. He fails to see that Laura has moved on. Laura herself also begins to wonder if she should be with George, because she is struggling in her marriage and feels a lack of fulfillment and appreciation from her husband. Only Ira seems to see that things are heading for disaster by George's being there.
When the real motives behind George's visit are uncovered, both Laura and her husband realize that their marriage is in real trouble and decide to remain together and work through their problems. When put to the test, Laura realizes that her family and husband mean more than what she and George had all those years ago. This comes as a devastating revelation to George, who believed himself the better of the two men. To add further insult to injury, it's revealed that Ira was behind the truth coming to light and George suddenly feels himself betrayed by his best friend. He remains completely oblivious to the selfishness of his desire, and that Ira was trying to think of the happiness of a family and not one man's desires. George's petty jealousy leads him to take out his frustration on Ira and accuse him of being a bad friend and firing him as his assistant. Ira sadly comments to George, "You are the only person I've ever heard of who learned nothing from a near death experience, George. You went backwards, you're worse." George mocks Ira's sentimentality and tells him that he's simply a "no-thought" and that he can get another assistant easily. What George still has not yet realized, even after his experience at Laura's house, is that people and the relationships we forge with them are an integral part of our life and our experience on Earth. He has continued to take the people around him for granted and then, after finding himself alone, blaming them instead of himself. As Ira tells him before departing, "Unless you can get away from you, you're always going to be miserable." Luckily, Ira's words and absence seem to have an effect on George and he begins to recognize the error of his ways. The movie ends with a touching scene of Ira and George sitting down and reviewing jokes for Ira's act.
Underneath their crude humor, these three films present honest portrayals of what it means to be human and the experiences we have that matter to us. Intimacy, family, and our legacy are the subject of Apatow's directorial efforts and they are the subject of our lives as humans. In his films, Apatow holds a mirror to our lives and shows us the human condition. It is no more than one can ask from our cinematic experiences.
~
Steffen Kellen is a Junior literature major at Ave Maria university with a minor in History. He hopes to continue his study of literature at the graduate level and when not watching and writing about film, he enjoys lively discussion about books, music, film, and all aspects of the human condition.
§

One Response to Rude Awakening